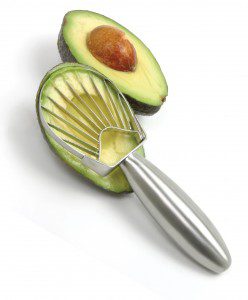 Bonnie: I often think I never need another gadget to fill my already overstuffed tool drawers. But some wise person once told me never to say never. He was right.
I found this handy avocado slicer in my welcome bag on a recent trip to the San...
Bryan: Butchering meat is certainly an art. If you've ever attempted to fillet a trout or take a whole chicken down to it's delicious parts without training, you probably know what I'm talking about. A few mis-strokes of your knife and your desired fish fillet ends up a mushy pile of flesh and ...
Eric: What the egg slicer did for the world of hard-boiled eggs, the avocado slicer has done for our sandwich-dominated society. I have seen avocado on menus everywhere -- it's even the focus of the newest Subway nationwide marketing campaign -- and for good reason: The avocado is just ...
Follow Bonnie on Twitter: BonnieBOTB
Use our Facebook "Like" button to let your friends know which of our posts you enjoy.