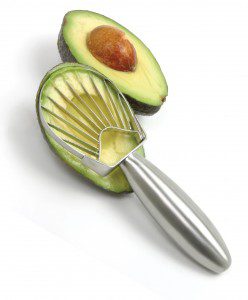 Bonnie: I often think I never need another gadget to fill my already overstuffed tool drawers. But some wise person once told me never to say never. He was right.
I found this handy avocado slicer in my welcome bag on a recent trip to the San Diego area as a guest of the California Avocado Commission. I've used it daily since. (Of course, I had more avocados than usual as I had just snipped some off the trees in the Rancho Santo Thomas grove owned by Mike Sanders in Valley Center, CA. Here's a photo of me and Mary-Frances Heck from Bon Appétit looking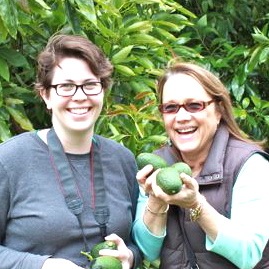 like Cheshire cats holding some of the fruit we snipped from the trees.)
Back to the slicer. I love how it works so easily, slicing through the flesh to create 12 equal slices. To use, just halve an avocado, remove the pit and press the slicer along the peel. Voila! Use on salads, burgers, pizza, eggs or sandwiches. Or you can then dice or mash the slices for any other uses.
Avocados are ripe and ready to use when they yield to slight pressure as you gently squeeze one in the palm of your hand. If you find yourself with an abundance of the fruit, puree the pulp and freeze in portion-sized containers for up to a few months. An ounce of avocado contains bout 50 calories and good fats, (mostly mono and polyunsaturated ones), plus lots of good-for-you nutrients.
The commission mentioned that you can substitute 1 cup of pureed avocado for 1 cup fat (as in butter or oil) in various baked recipes. I was thinking of substituting half the butter in a brownie recipe, but I haven't had time to try that yet. If you do – please share your results.
During the trip, we had avocado at every meal and throughout our meals — from appetizers through desserts — but that's typical of a commodity tour.
Here's an adapted recipe for my favorite dish from this trip — created by Chef Trey Foshee for the California Avocado Commission. Trey – named as one of America's Best Chefs in 1998 by Food & Wine Magazine — is chef-partner at George's at the Cove (La Jolla, CA), a place I visited with my foodie friend and blogger Maureen Clancy when visiting the area. The photo is courtesy of the California Avocado Commission.
Trey Foshee's Halibut Ceviche with Coconut, Lemongrass and Cilantro in an Avocado Half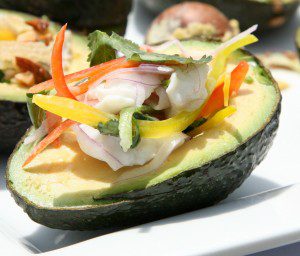 3-pounds fresh halibut fillet, diced (3 cups)
1 1/4 c fresh lime juice (approximately 8 limes)
1 T + 2 t salt
1 lemongrass stalk
14-ounce can unsweetened coconut milk
2 T minced fresh ginger
About 1/3 c paper-thin slices red onion 1/4 red onion, shaved thin
1/2 red bell pepper, seeded and julienned
1/2 yellow bell pepper, seeded and julienned
1 seeded jalapeño pepper, julienned
1/4 c fresh cilantro leaves
3 fresh, large (about 8-ounces each) ripe avocados, cut in half with pits removed just before serving
Combine halibut, 1 cup lime juice and 1 tablespoon salt; refrigerate until the fish turns white (is no longer opaque) and is cured, approximately 45 minutes; drain well and reserve.
Smash the lemongrass with the back of your knife and place in a small saucepan along with the remaining 1/4 cup lime juice, the coconut milk, ginger and remaining 2 teaspoons salt. Bring to a simmer over medium heat, and let cook for 20 minutes, or until reduced slightly and thickened. Remove from the heat and let sit for 30 minutes, then strain and chill. (This can be made a day or two ahead and refrigerated until needed.)
When ready to serve, combine the halibut, coconut dressing, onion, peppers, jalapeño and the cilantro in a bowl and mix well. Fill each avocado half with even amounts of the mixture and serve. Makes 6 servings.
Bryan: Butchering meat is certainly an art. If you've ever attempted to fillet a trout or take a whole chicken down to it's delicious parts without training, you probably know what I'm talking about. A few mis-strokes of your knife and your desired fish fillet ends up a mushy pile of flesh and bones, your tattered chicken breasts simply hacked from the still meaty bird.
Fruits and vegetables are supposed to be a haven for the kitchen-knife impaired, allowing almost anybody to start with the "whole" food and break it down to the size he wants. Most home cooks wouldn't want to start their meal preparations with an entire chicken or (shock) cow; it simply requires too much work! But there are not too many folks who shy away from slicing tomatoes, peeling potatoes, shucking corn, dicing onions, chopping broccoli. We can do these things, no problem! But then there are some fruits and vegetables that just have to be pains in the butt.
What's up, butternut squash? Why are you so cumbersome? C'mon beets: Why do you have to permanently stain everything you touch? And damn you avocado: Why must your skin casing always get in the way of my enjoyment, sticking to my slices or flaking off as I cut?
I have cracked the butternut squash problem (and my wooden cutting board in the process): A nice butcher's knife and a mallet will halve that sucker in no time. But I still hadn't solved the avocado Rubik's Cube until a new device showed up at my door. And, of course, it's so freaking simple. Just think of a hard-boiled egg slicer, those wires cutting the egg into nice even pieces as you close the top down. Now think of that same concept, just in a hand-held version. After halving the avocado, simply drag the avocado slicer from the base of the fruit to the top (wider bottom up to point). You've now got perfect avocado slices, and an empty skin casing. Duh.
Eric: What the egg slicer did for the world of hard-boiled eggs, the avocado slicer has done for our sandwich-dominated society. I have seen avocado on menus everywhere — it's even the focus of the newest Subway nationwide marketing campaign — and for good reason: The avocado is just that delicious.
Packed with "good" fats and full of flavor, the avocado is a versatile vegetable. Enjoy Mexican food? Try the guacamole. Dabble with Sushi? Try the California Roll. Searching for a mayonnaise replacement? Look no further than the avocado. Simply stated, it's an incredible food that can be tricky to prepare, but the Norpro is a great tool for those who prefer just the right tool to get the job done. Whether you're comfortable using a knife and spoon, or want to dabble with the Norpro avocado slicer, avocado should be a staple in your kitchen this summer.