Bonnie: Sometimes gadgets just get to me. I see them and I must try them immediately. That was exactly the case with these adorable bag caps from Copco.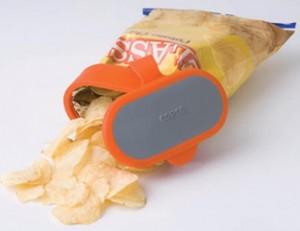 If you're a baby boomer like me, you'll remember Copco as the company that made the porcelain-enameled, cast-iron cookware. I still have some of its pots, and use them for stews and soups. I don't use them as often as I did since I find the large ones quite heavy to lift when filled. What I do like is that you can serve directly from the cookware. Mine are cobalt blue, matching my dishes.
I'm getting sidetracked here… back to the bag clips. Sure I have lots of clips that seal in the freshness! What makes these different is that once you add the cap, you can open the bag and slowly pour out the contents. That's cool, huh?
Bryan: Who isn't sick and tired of food going stale? Who here hasn't been distraught by freezer burn? If you're anything like me, your kitchen cabinets are cluttered with food packages that are fresh today and old tomorrow…. Well, it's not a vacuum-packing machine, but these little pieces of plastic will help you go a long way toward saying goodbye to stale bagged food!
Copco (I, unlike Bonnie had never heard the name until today) has one of the newest answers to this dilemma with the "bag cap." The Copco Bag Cap is able to seal any bagged food, without removing it from its original packaging. Just attach the bag cap to the food package, then simply flip open the cap to use as much or as little food as you need. After you're done, snap the cap closed and store. There's no further need for storage containers and mismatched lids; this unique food accessory turns any bag into a reusable container. What's even better is that you can still find the nutrition information, as the label is still there!
Here's how it works:
– Separate the two pieces of the bag cap;
– Slide the open portion of the bag through the inner ring and fold the ends over;
– Press the cap onto the inner ring until it pops into place; and
– You're now ready to flip the cap open and pour — And snap the cap closed to store.
Copco Bag Caps come in three sizes: small, medium and wide (and colors red, orange and green). The sizing options make this gadget a perfect fit for almost any bag in your pantry.
Bag clips are another good way to handle the stale chips scenario, but Copco's Bag Caps are just better; I really like them. They're a great choice for chips, veggies, candy, pastas and rice. I have found them most useful so far for my cereal, though you will have to take the bag out of the box. Copco Bag Caps will prevent bag rips and tears, avoiding the common spilling problem.
They are also refrigerator, freezer and dishwasher safe.
Eric: I never would have expected bag clips, of all things, to be the topic of discussion on our blog. Of all the appliances and accessories in my kitchen, it is sometimes the simple pieces that prevail as "the best." Copco Bag Caps have helped to redefine what a practical kitchen accessory truly means; they're convenient, easy-to-use and helpful. Add to that the reasons already stated by my brother and mother, and you'll soon realize that it's time to upgrade your bag clips.