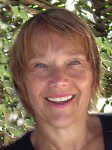 Bonnie: Walking the aisles of another holiday gift show in Manhattan, I noticed this backsplash griddle at the Nordic Ware booth. Holiday gift shows are abundant at this time of year as long-lead magazines are working on their holiday stories.
In a flash, I visualized my dad flipping the pancakes he was making on our outdoor brick oven. I almost slipped on the pool water dripping from his bathing suit as I ran to get lined up. That was one time when each of us didn't wait for everyone to get served before eating. We could eat our pancakes while still hot.
Between each batch, my father rubbed a half-wrapped stick of butter on the grill to grease it. There was no resisting those crispy pancakes drizzled with maple syrup. Now, I'm wondering whether those summer hotcakes were that good, or was it sitting in a bathing suit outside at a picnic table under a cloudless sky that made them so delectable?
My thoughts vanished as I heard my name. Dana, the Nordic Ware PR person recognized me.
"Can this be used outdoors on a grill?" I asked, thinking that others might want to make outdoor-breakfast memories too.
It can. Or use it over a couple of burners of your stove.
I love how the sides (those raised edges) make it easier to flip the eggs, sausage, pancakes, grilled tomato slices or whatever you're cooking. And how the front lip catches any drippings. And love that I only have one so-to-say "pot" to clean.
And, it's nonstick, made of cast aluminum, comes with a lifetime warranty and is made in the USA.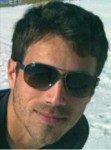 Bryan:I absolutely love my apartment, but I am just dying to redo my kitchen. It gets me by, but there are more than a few things I dislike about the room: limited counter space, only one drawer, very little storage and an awkward layout, to name a few. But the most frustrating element is that it has only electric appliances. No natural gas… no real burners to cook with. You may or may not have strong opinions about electric cooktops, but I am not a fan. I'd go so far as to say I hate them. I'm not using an old-fashioned coil burner, but even my supposedly modern glass cooktop is just a huge annoyance and a frustratingly uneven cooking experience.
I've gone as far as considering a small gas-tank system to power an inset cooktop, though the gas tank would likely take up most of my only storage cabinet. After realizing my defeat, doomed to an electric cooktop, I began to try out alternate cooking surfaces that could be used atop my silly glass stove. Griddles seemed to be the answer. If you get uneven heating and cooling from an electric burner, put something in-between that keeps the temperature even… a griddle! I first tried a heavy, flat cast-iron griddle, but it was just too difficult to heat properly and impossible to cool down once overheated. It was cumbersome and just a massive pain to clean. It was also a defeat.
I examined a number of other griddle options, but they always appeared flimsy and cheap, almost cookie sheets for stovetop cooking. I was unimpressed. With all of this baggage, I recently tried the Nordic Ware Backsplash Griddle and I was impressed… I was enthralled. I had just received a new Bisquick instant pancake mix in the mail and had to try it out. What better chance to test out the new griddle?
The Backsplash Griddle doesn't sit flat on the burner, but raised on a hollow platform, allowing for more even heating. Raised edges, handles and a grease trap make it a truly versatile cooking tool, transforming my awful electric cooking surface into a restaurant flat top and bringing me back to my days as a short-order cook. I love this thing: sturdy, easy to clean and giving new life to my boring stovetop. Sick of your electric? Griddle it.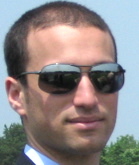 Eric: I've worked a decent number of jobs in the realm of food and beverage, and got my start at 14 working the deep fryer at a beach club in Connecticut during the summer. As I progressed, so did my responsibilities, and my next job was running the operations of a small snack shop at an indoor soccer center in that state. The added bonus was that I didn't have to just stand behind the fryer. But with power comes responsibility, and that came in the form of multitasking operations: running the counter, baking items in the oven, controlling the fryer and slinging grease on the flat-top griddle, with the latter being my favorite. There is no piece of "equipment" better than a flat-top griddle. Talk about multi-tasking options — at any given point that griddle could have pancakes, burgers, eggs, bacon, hash browns, hotdogs… and all at the same time.
The beauty of the griddle is its ability to cook more than one item simultaneously. There's no need for a multitude of pans, and the cleaning aspect is incredibly easy (that is if you routinely clean the grease trap). Back in the '90s, when my mother remodeled her kitchen, the one piece of equipment I asked for was a griddle. Unfortunately that request never was granted, but luckily nowadays there are options such as the Nordic Ware Backsplash Griddle. This little puppy can dance, and is just as effective as an industrial griddle. The beauty of the Backsplash Griddle, aside from its multitasking ability, is the ease in cleaning it. Honestly, this is a must have for any aspiring breakfast cook!