Bacon! Almost nobody amongst us will argue against this culinary delight. Heck, even most vegetarians will admit that it smells amazing. A friend of mine who once told me that nobody could be satisfied by a salad, then also proclaimed that all foods were made better by bacon… Though I strongly disagreed with his first premise I tended to cede to his second dogmatic tenet.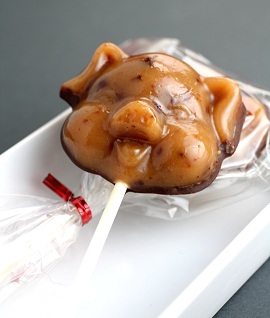 Cheeseburger, bacon cheeseburger. Potato skins, potato skins with bacon bits. Sauteed shrimp, bacon wrapped sauteed shrimp. The list goes on and on. Yes, everything truly is made better by bacon and nowadays chefs and food producers alike aren't stopping with the savory.
My first bacony dessert experiences was in a chocolate chip cookie. Little chunks of slightly chewy, sugar coated bacon bits, in about a 1 per 5 ratio with the chocolate chips. Heavenly, I mean I wouldn't start making my chocolate chip banana bread with it (or would I…?), but this cookie really had something special going. I was sold on bacon for dessert.
In some ways, it seems everybody is looking for food to be unusual these days. Our hectic, jaded culture demands to be entertained, even when we eat. So entertainment we shall have! Nuttiness like bacon peanut butter sandwiches, bacon gumballs, bacon mints, and bacon cupcakes are just a few of the bacontastic food products you can find online. Lots of crap, but nothing that's piqued my interest quite like the Piggy Pop.
Piggy Pops is the latest product to throw its hat into the ring. Developed by the same chefs who won the heritage pork cook-off at Aspen's Food & Wine Festival, Piggy Pops are a bacon toffee lollipop dipped in chocolate. Yes, I'll say that again, it's a bacon toffee lollipop dipped in chocolate. Dry-cured Black Pig Bacon is mixed with brown sugar before being smoked and bathed in caramel toffee and dark chocolate. Salty, smoky, sweet… Different for sure.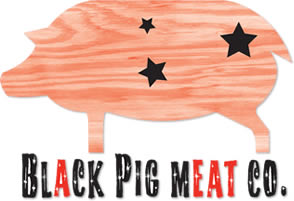 I was quite excited to try them, their little pig faces just begging to be eaten, promising bacony goodness just a bite away. A really good dessert, great actually if I didn't know it was supposed to be a bacon pop. This is a really good, but I don't know if I would've even identified the bacon if I were blindfolded. I did get a few little bits that made me think 'bacon', but not quite enough.
Keep in mind that Piggy Pops are new, and are just one of many items sold by the Black Pig Meat Company, and their only 'sweet' at that. BPMC is better know for their super-premium meats made from heritage breed pork, raised in an antibiotic and hormone free range. It really is good bacon, even in small toffee covered, chocolate drenched bites.
-bryan