Philadelphia Cheesecake Cups come in a ready-to-eat snack cup with cheesecake on one side and one of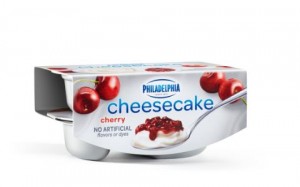 four toppings on the other side. The cheesecake cups are free of artificial flavors or dyes.
Each 3.25-ounce serving contains 170 to 220 calories, 6 to 7 grams saturated fat (of 10 to 12 grams total), 190 to 310 milligrams sodium and 2 to 3 grams protein.
Kristine James, intern at Bite of the Best: My kids love these and they make a great addition to their lunch box for a special treat. They are about 40% lower in total fat than a regular piece of cheesecake with 10 to 12 grams per serving compared to 18 grams.
Save