An attractively packaged and designed bottle arrived at my doorstep. Inside the thick gold-embossed black box along with the final two stanzas of the poem that inspired the McQueen and the Violet Fog name was a bottle of the eponymous gin.
The press materials tout the liquor as "made with an unparalleled 21 sustainable botanicals from around the world, at least six of which are found in no other gin." This Sovereign Brands gin is a small batch one, bottled in Jundiai, Brazil.
I decided to make the "Violet Fog" recipe (basically a Moscow Mule) that accompanied the bottle. I first made it with Bombay Saffire, the brand my dad drank, then the McQueen and the Violet gin.  Seriously? Once you added the lime juice and ginger beer the finer differentiations were lost — at least on me..
I then sipped it to on its own.
What a wonderfully complex non-juniper forward gin with a bit of heat, spice, herbal, citrus and herbal notes. I wouldn't waste this on mixed drinks, instead, I'll have mine on the rocks. A 750ml bottle has a suggested retail price of $34.99-39.99.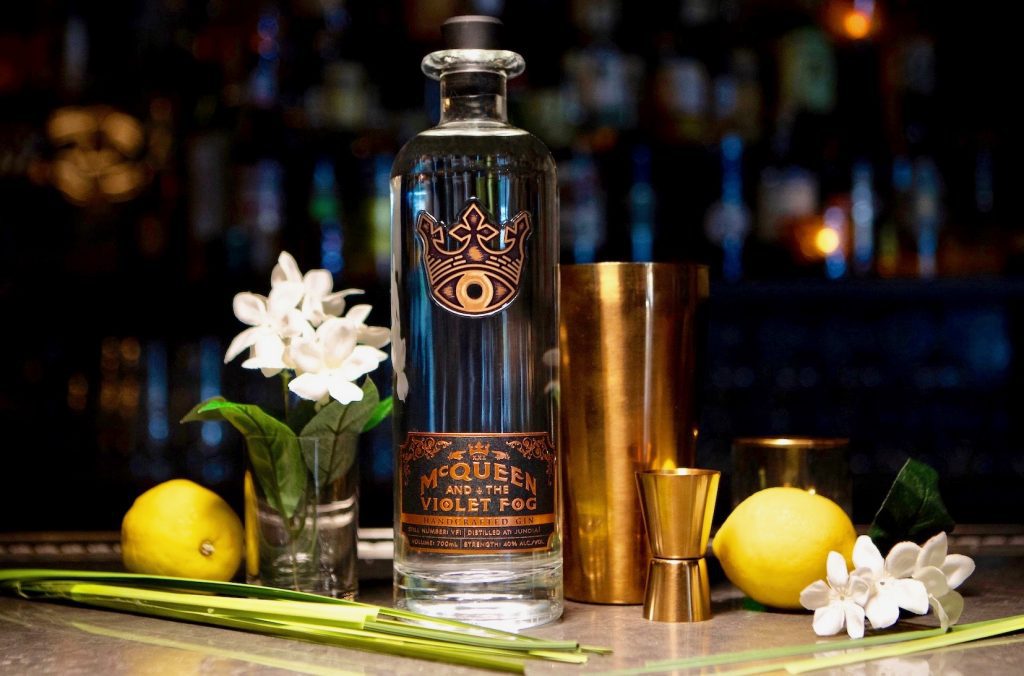 Gin Moscow Mule 
2 ounces gin
1 ounce freshly squeezed lime juice *
6 ounces ginger beer **
Combine gin and lime juice in an ice-filled glass; stir. Top with your favorite ginger beer**.
Garnish with a slice of lime or fresh flower
*To get the most for your money, buy limes that seem heavy for their size, then microwave for about 30 seconds, roll on the counter while pressing to release the liquid from the membranes and then squeeze out the juice. I think you'll be amazed at the amount of juice you'll get.
** I make my own using Pickett's #1 All-Natural Ginger Beer Concentrate