Walking around the 2019 Preview exhibits of The International Housewares Association I stopped by the Bialetti booth, the Italian cookware and coffee maker company, as I saw the Mini Express.
This cute tiny aluminum press is a perfect espresso maker for those with teensy kitchens who don't have space for a large one, or to even take camping! Imagine fresh espresso before fly fishing. This is a 2-cup portable stovetop espresso maker with dual spouts. Meaning it makes two 2-ounce cups of espresso in 5 minutes after filling the lower chamber with water and the metal filter with a favorite espresso grind. The SRP is $34.99 but is available for $27 on Amazon. You will need the two espresso cups.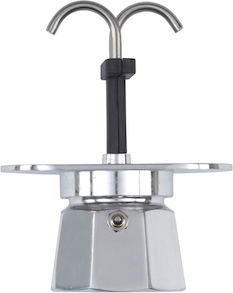 The company also offers two blends of coffee for use in their espresso makers. A Bialetti Napoli (70% Robusta and 30% Arabica dark roast) and Milano Coffee (100% Arabic light roast) with SRP $12.99 per 8.8-ounce vacuum-sealed cans. I prefer the former.