World-renowned Spanish winery Martín Códax has recently released the 2010 vintage of their signature varietal, Albariño. A lesser known white wine for sure, Albariño is one of the most popularly consumed wines in Spain. Wines made from the grape are crisp, fruit-forward and refreshing, making them the perfect accompaniment to seafood or light white meat and vegetable dishes.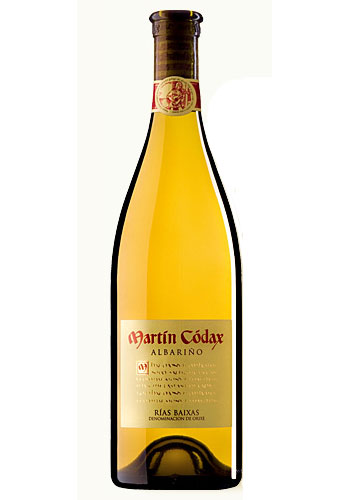 It's more than likely you haven't ever tried this wonderful grape, as it's vastly out produced and out marketed by the likes of Pinot Grigio, Chardonnay, Sauvignon Blanc, Reisling and other white wines vying for your attention. Albariño is more a second tier grape in recognition, along with varietals like Gruner Veltliner and Viognier. These grapes are not second tier in flavor or quality, they just lack the name recognition and presence of their first tier cousins. This can actually make the second tier a much preferable option, as prices are usually much lower, with wines coming from smaller producers.
Martín Códax is actually the most widely available Albariño in the United States, and retails for around $15. If you're looking for a great summer wine and have not yet had your first Albariño, this is the way to go!
-bryan
Albariño Facts
– Albariño is "The Wine of the Seas," because of the ocean's impact on the vineyards and because it's the perfect accompaniment to seafood prevalent in its native Galicia.
– Albariño represents over 90% of all plantings in Rías Baixas, due to the region's optimal growing conditions for the grape.
– Many consider Albariño to be the premier high-quality white wine of Spain, because of its popularity among Spaniards.
– Albariño is typically fermented in stainless steel with little to no oak, delivering delicate notes and a zesty acidity.
– The name Albariño is derived from the ancient words alba, meaning "white" and Riño meaning "from the Rhine," a nod to the theory that German Benedictine monks originally brought the grape to Spain.
– Albariño is intended to be enjoyed young, within a year or two after harvest, to fully capture the vibrant flavors and aromas.
– Albariño is so special and important in Spain that the grape itself is subject to regulation, not just the wine. Inspectors examine every load of grapes arriving at wineries to certify that their vineyards meet the standards set for Albariño in Galicia.
– Albariño is the Galician name for the grape. In Portugal, it is known as Alvarinho.