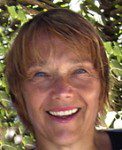 Bonnie: I stopped by the Joseph Joseph booth at a NYC show earlier this year, and spoke to Richard — one of the twin brothers who own the company — about all its innovative products. I like its new space-saving products: the Twist Whisk ($10, a whisk that closes flat for compact storage) and the new Nest 7 Plus and Nest 9 Plus ($30; $50 – a set of nesting mixing bowls and measuring cups and spoons). But what really intrigued me was the story about the Chop2Pot, which was its first product. The one that basically launched the company.
The original plastic hinge technology Chop2Pot cutting board was called "No Spill" chopping board. It was designed by Mark Sanders, an English inventor, in 1988. In 1994, the hinged cutting board was featured in the New York Museum of Modern Art's (MoMa) permanent collection. The board was restyled, renamed and patented Chop2Pot in collaboration with the Joseph Joseph company in 2006.
Today, that cutting board is called the Chop2Pot Plus (the smaller original one is no longer available) and — according the company — features a "comfortable, soft-grip handle and non-slip feet for extra safety and convenience."
I keep my Chop2Pot Plus handy (hanging on a hook so it's easy to grab) and use it for chopping the produce that I add to soups, stews, salads or whatever I'm cooking. The cutting board reminds me of the flexible and attractive Microthin's Magic Slice non-slip flexible ones that we reviewed about 4 years ago, but it's much sturdier. We recommend it.

Bryan: Twin brothers Richard and Antony Joseph founded Joseph Joseph in 2003… I guess they just couldn't decide on whose name would come first! The company specializes in contemporary kitchenware, currently putting out a number of technically innovative, stylish products that will make you think twice about the everyday look and feel of kitchen gadgets.
Browsing JJ's website is more like a stroll through the Museum of Modern Art than it is akin to a walk down an aisle of your neighborhood kitchenware store. Unique shapes and vibrant colors are what first catch your eye, but a focused attention to detail creating ergonomic and functional harmony is what will truly stay with you. Everything the Josephs put out is beautiful, and incredibly well thought out. More than kitchenware, this is designware.
Fold-flat colanders, collapsible steamer baskets, rainbow-colored nesting bowls, easy-releasing ice cube trays, adjustable rolling pins, rotary peelers, scoot slicers, smashers, orbs, y-grinders, uni-tools… the list starts to sound more and more like Willy Wonka and less and less like Crate & Barrel. I like it! And these are not just pretty faces; JJ's products are generally more useful than their aesthetically challenged competitors.
Even products you might have thought would be beyond further improvement, like a cutting board, get special treatment at Joseph Joseph. While they make a number of different types of boards, like the "Cut & Collect" (a board with a built in drawer) and "The Index" (a folder of four cutting boards, each for a different type of food), the most useful product to me is the Chop2Pot. It's an award-winning folding chopping board that, when squeezed at the handle, folds up to form a chute for chopped food to be easily directed and poured. There could not be an easier way to get your food from chop to pot (hence the name).
Wonderfully stylish and tremendously functional. A can't-miss product.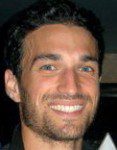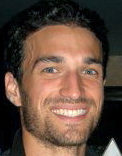 Eric: I consider myself an avid cook. When I began moving around the country, jumping job to job, I started to "collect" pieces for my moveable kitchen. There were a few essential items that always traveled with me:
1. Cast iron pan
2. Knives
3. Kitchen tongs
4. Collapsible colander
5. Wooden cutting board (chopping block)
There is little room in my kitchen or my bags for cheap, impractical kitchen equipment. In my mind, investing in core kitchen equipment is always better than buying economical, China-made, for lack of better eloquence, crap.
That said, there are some "fun," useful items that I always keep around, and Chop2Pot Plus has found its way among them. For my two cents, Chop2Pot Plus is perfect for the child-chef in training; it should have a color-matching step stool as a purchasable option to enable the child-chef to reach the pot.
Chop2Pot Plus is the perfect gift for your foodie friends. With a retail price starting at $16, you won't break the bank for a gift they'll welcome, either as an addition to their cooking-craft tools, or a display item for their mantles (thank the MoMa for that).