Blount Fine Foods introduced eight organic soup varieties available in 16-ounce microwaveable cups and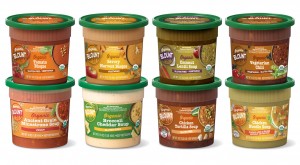 their signature Cool Grip Rim, which makes the cups easy to handle after heating.
Each 16-ounce serving contains 130 to 200 calories, 0 to 7 grams saturated fat (of 1.5 to 10 grams total), 510 to 720 milligrams sodium and 4 to 12 grams protein. Several soups are good to excellent sources of fiber, vitamin A and C, calcium and iron.
– bonnie : From those I tried, I would recommend the organic hearty and flavorful,  fiber (10 grams) and protein rich (12 grams) Coconut Lentil Soup and the nicely flavored high fiber, low fat Vegetarian Chili. 
Save
Save