Bananawave bananamilk is a plant-based, non-dairy beverage made from bananas and soy beans. It is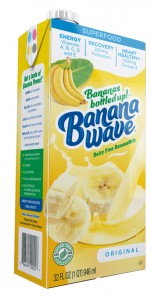 derived from an African recipe that has been passed down from generation to generation.
Each cup contains 150 calories, 1 grams saturated fat (of 5 grams total), 125 milligrams sodium and 4 grams protein. It is a good source of vitamin A with 10% and an excellent source of  calcium, riboflavin and vitamins C, D, E and B12.
Kristine James, intern at Bite of the Best: My daughter loves the banana milk, especially on cereal. It is a great alternative to cow's milk with a rich banana flavor and additional vitamins.

Save