Online and in the New York City area at Fairway Markets and all Duane Reade locations
$3.99 per 5.03 oz bag
Beetroot Parsnip & Carrot, Lightly Sea Salted, Mature Cheddar & Chives, Sea Salt & Black Cracked Pepper, Sea Salt & Cider Vinegar, Sweet Chili & Red Pepper, Worcestershire Sauce & Sundried Tomato
Tyrrell's Chips, a premium English potato chip brand, is launching seven flavors in the US. The chips  are hand cooked in small batches in the West of England in Hereforeshire. The chips are made from the Lady Claire and Lady Rosetta potatoes, sourced from local farms to maintain the chips quality year round.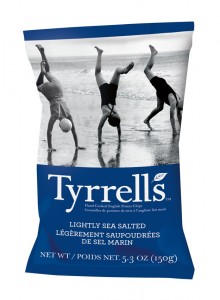 Each 1-ounce serving size contains 144-153 calories, 1 grams saturated fat (of 8-11 grams total) and  70-180 milligrams sodium.
– bonnie: These chips are lightly salted, a plus to those watching their sodium intake.