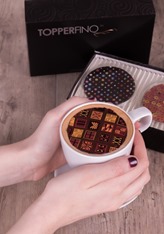 Topperfino Chocolate Coffee Toppers add a hint of sweet chocolate to your java. Place one on top of your cup of coffee and watch it melt into a creamy chocolate addition to your morning Joe!
One Topper contains 25 calories and 1 gram saturated fat (of 1 to 1.5 grams total).
– bonnie: What a fun idea to top your hot brew with a disc of chocolate. I only wish they hadn't added artificial colors to their Toppers.