Tonnino tin tuna cans use 100% yellowfin tuna available in spring water and 100% olive oil. Tonnino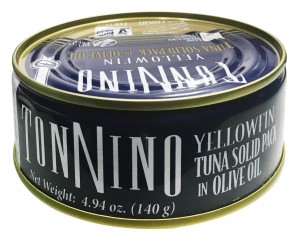 Tuna is dolphin-safe, contains  lowest levels of mercury and comes in stackable, on-the-go cans.
Each 3-ounce serving contains 90 to 130 calories, 0 to 2 grams saturated fat (of 0.5 to 5 grams total), 214 to 270 milligrams sodium and 20 grams protein. The tuna is a good to excellent source of iron with 11 to 35 percent of the daily recommended intake.
Save