The manual T-fal Ingenio 5-Second Chopper can cut up fruits, vegetables or meats and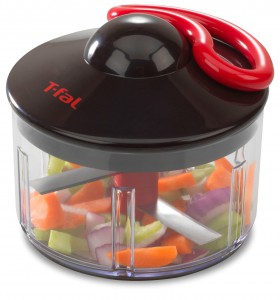 prepare salsas, sauces and guacamole in seconds. The easy-to-pull knob gives you complete control over the chop/puree level of your food. The unit has a non-slip base, ultra sharp stainless steel blades, with a dishwasher-safe cutting case and blades  and a lifetime warranty.
A great option when you don't want to pull out your large food processor.