Stouffer's new Fit Kitchen frozen entrees are packed with 25 or more grams of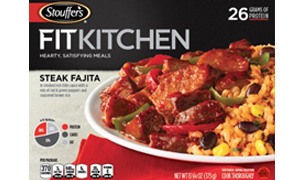 protein and healthy carbohydrates including dark green vegetables, sweet potato and brown rice. They come in six different meal options including steak fajita, cilantro lime chicken, rotisserie seasoned turkey, Monterey chicken, bourbon steak and oven roasted chicken.
Each meal contains 250 to 410 calories, 2 to 5 grams saturated fat (of 4 to 13 grams total), 750 to 960 milligrams sodium and 25 to 27 grams protein.