Simply Sprouted Tortilla chips are available in two flavors — Sriracha and Tangy Mustard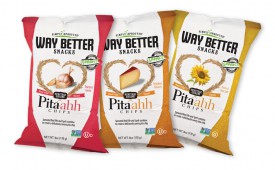 and Onion. Simply Sprouted Pita-ahh chips are available in three flavors — Toasted Garlic, Smoked Havarti and Sea Salt. The tortilla and pita chips are Certified Non GMO Project Verified, low sodium and a good source of fiber.
Each 5.5-ounce serving has about 130 calories, 0.5 grams saturated fat (of 7 grams total), 3 grams fiber and 2 grams protein.