Speedway, Pilot Travel Centers, Shell, Chevron nationwide
$34.99 per 6.5 gallon
White Cheddar, Caramel, Cinnamon Sugar, Kettle, Jalapeno, Butter, Naked, Southwest Cheddar
Rocky Mountain Popcorn NottaTin can be filled with three of the seven varieties of popcorn.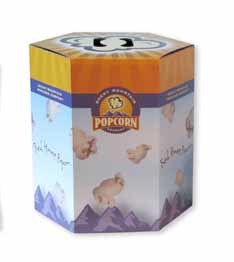 The tin is eco-friendly and made from recycled fiber. Rocky Mountain popcorns are gluten-free, nut-free and non-GMO certified.
Each 3/4-cup serving of the Caramel and Kettle varieties contains 110-120 calories, 0 grams saturated fat (of 0.5-4.5 grams total), and 1-2 grams protein; a 3/4 to 3-cup serving of the other flavors contains 140-170 calories, 0.5-2 grams saturated fat (of 8-14 grams total), and 1-2-grams protein.
– Christin Chan, Bite of the Best intern: Very fun and eye-catching packaging! Kettle, my favorite, has  just the right amount of sweetness and saltiness to excite your palate.