Philadelphia Bagel Chips & Cream Cheese Dips are on-the-go cream cheese cups with mini bagel chips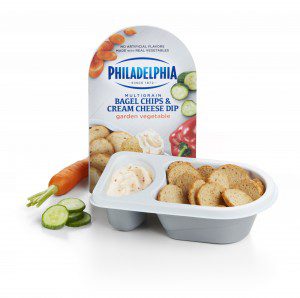 for dipping, available in two sweet and two savory flavors: Strawberry, Garden Vegetable, Chive & Onion, Brown Sugar & Cinnamon.
Each 2.5-ounce serving contains 200 to 220 calories, 6 grams saturated fat (of 11 to 12 grams total), 380 to 490 milligrams sodium and 6 grams protein. They are a good to excellent source of vitamin A with 15 to 20% of the daily recommended intake.
Kristine James, intern at Bite of the Best: These make a great, tasty although high-sodium mid-day snack.