Currently only in New York, Florida, California and Massachusetts
$30-35 per 50ml and 750ml bottles
Pavan Liqueur is crafted from muscat grapes from south France, specifically the AOC (Appellation d'Origine Controlee) region of Frontignan.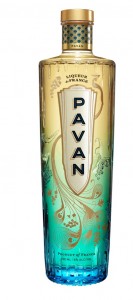 This Mediterranean inspired liqueur is designed to have a ripe crispness with an orange fruit flavor. It contains an 18% alcohol volume.
– bonnie: I served this well balanced, slightly sweet liqueur mixed with bubbly as a recent party to much acclaim. It's also delicious on it's own, or with a splash of sparkling water.