Naturally More introduced a new line of nut butters: Organic Valencia Peanut Butter, Roasted Almond Butter and Chocolate Hazelnut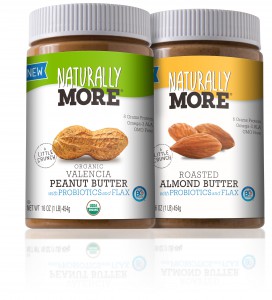 Spread with added flaxseed and boosted with probiotics to support digestive health and immune functions. The nut butters are available in both jars and pouches.
Each 2-tablespoon serving contains 180 to 190 calories, 1 to 2 grams saturated fat (of 14 to 17 grams total), 60 to 95 milligrams sodium, 5 to 8 grams protein and is a good source of fiber with 3 to 4 grams.