Mom Made features four frozen meal varieties. Each is made with antibiotic-free and preservative-free ingredients and are USDA certified.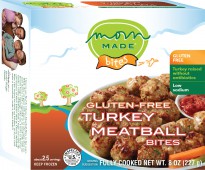 Each 7-ounce meals has about 170-230 calories, 0.5-4.5 grams saturated fat (of 3-7 grams total), 65-370 milligrams sodium, 2-6 grams sugar and 7-10 grams protein.
Each 2.5-ounce munchie has about 140-220 calories, 3-5 grams saturated fat (of 9-11 grams total), 130-240 milligrams sodium and 3-5 grams protein.