Nationally available
$1.09 per 1.50 ounce single bag or $2.99 8 ounce Stand-up Pouch
Mars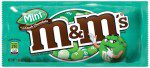 chocolate has launched M&M'S Brand Mint Dark Chocolate Candies, which combines dark chocolate with mint flavoring in a candy shell. These candies are Kosher certified.
Each 1.5-ounce (about 1/4 cup) serving size contains 240 calories, 9 grams saturated fat (of 14 grams total) and 23 grams sugar.
– bonnie: As a mint and dark chocolate lover, I waslooking forward to sampling these dark chocolate mint M&M morsels. Sadly the round candies taste little like M&Ms and the mint flavor is mostly artificial.