Hemp Protein Smoothie is a powder containing hemp protein, organic coconut sugar and an organic harvest green blend of spinach, kale and broccoli. It's available as Mixed Berry, Vanilla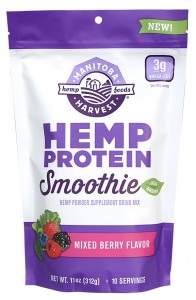 Chai and Chocolate, each non GMO verified.
Each 1/4-cup serving contains 130 calories, 3.5 grams total fat and 15 grams protein, is a good source of vitamin A and iron and contains omega 3 and  omega 6 fatty acids, essential for good health.
Kristine James, intern at Bite of the Best: With only four ingredients high in protein, these make a good smoothie for breakfast on the run or to fuel up after a workout.