Lunberg introduced Organic Sprouted Rice & Seasoning Mixes that combine organic sprouted brown rice with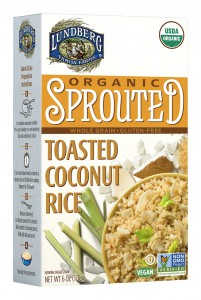 seasoning in five flavors: Thai Red Curry, Toasted Coconut, Chile Verde, Korean BBQ and Vegetable Fried Rice. Each is non-GMO verified, gluten-free, vegan and kosher.
A serving contains 200 to 210 calories, 1.5 grams saturated fat (of 2 to 2.5 grams total), 440 to 480 milligrams sodium and 4 to 5 grams protein.
Vegetable Fried Rice, Korean BBQ Rice and Thai Red Curry Rice are good to excellent sources of vitamin A and vitamin C; Thai Red Curry is also a good source of iron.