Nationally available
$3.29 per one-pound pouch
Lundberg Family Farms introduces Olde World Pilaf, a blend of whole grain rice, peas and lentils in a resealable pouch. This pilaf is gluten free, vegan, Kosher certified and contains no genetically modified organisms.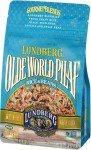 Each 1/4-cup serving of the dry mix contains 153 calories, 0 grams saturated fat (of 1.5 grams total), 1 gram sugar, 36 grams whole grains and 5 grams protein.