Nationwide
$3.79 per pack
Chicken Strips with Double Stuff Oreo Cookies, Deep Dish Pizza with Pepperoni and Chewy Chips Ahoy!, and Turkey and Cheddar Sub Sandwich with Double Stuff Oreo Cookies
Lunchables introduces three new varieties  featuring Chiquita Strawberry Banana Smoothies made with a half-cup of real fruit with no added sugars or sweeteners.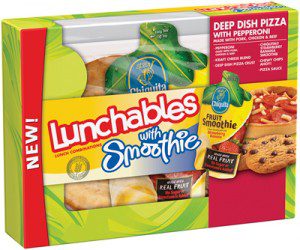 Each contains 350-400 calories, 10-14 grams of total fat total, 10-12 grams protein with 10-15 percent iron and 20 percent of the Daily Value for calcium.
-Christin Chan, Bite of the Best Intern: I enjoyed Lunchables' Chiquita Strawberry Banana Smoothie with its very strong banana flavor in just the right serving size. I preferred the pizza and chicken strips combinations over the turkey sandwich, which was a bit too dry for me.