Lawless Jerky introduced Bbq Pork Spare Rib, a pork jerky made with ketchup, soy sauce,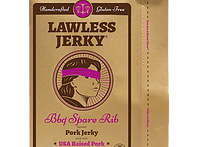 honey, cinnamon, cloves and ginger. Lawless Jerky does not contain any preservatives or artificial ingredients.
Each ounce contains 80 calories, 0.5 grams saturated fat (of 1.5 grams total), 320 milligrams sodium and 12 grams protein.
Kristine James, intern at Bite of the Best: Love the fact that the jerky does not contain MSG found in most other brands. I like the flavor, but would prefer it a little more intense and tangy tasting, more like BBQ.