Lance PB&J Grape Toasty Cracker Sandwiches are made with real peanut butter and Welch's grape jelly,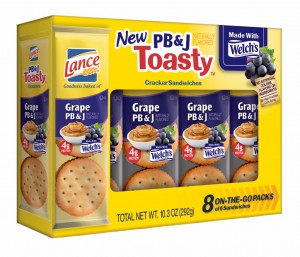 without artificial flavors, colors or ingredients.
Each 6-cracker package contains 190 calories, 2 grams saturated fat (of 9 grams total), 180 milligrams sodium and 4 grams protein.
Kristine James, intern at Bite of the Best: My daughter loves these, making a great addition to her lunch box. The combination of protein and fat satiate without a lot of calories and the jelly adds a little sweet with only 4 grams of sugar per serving.