at select grocery, mass merchandiser and natural food stores nationwide, and online
$3.39 per 4-ounce bag
Sour Cream & Onion, Cheddar & Roasted Tomato
Kettle Brand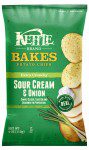 Bakes adds two new flavors, Sour Cream & Onion and Cheddar & Toasted Tomato, to their already existing line.
Each 1-ounce serving of about 20 chips contains 120 calories, 0-0.5 grams saturated fat (of 3-3.5 grams total fat), 135-160 milligrams sodium, 0-1 grams sugar and 2-3 grams protein.
– Alyssa Tucker, Bite of the Best Intern:The Sour Cream & Onion chips are  packed with actual potato flavor  and are crunchy, without they airy texture of  other baked chips. Plus, the chips don't leave your hands greasy.