Nationally available
$3.49 per 4 ounce bag
Roasted Red Pepper, Roasted Garlic, Olive Tapenade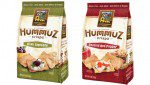 All natural, gluten-free crackers made with real garbanzo beans, also known as chickpeas, called HummuZ crispz are currently available from the Mediterranean Snack Food Company. They are available in four flavors: Roasted  Red Pepper,  Roasted  Garlic, and  Olive Tapenade.
Each 1-ounce serving contains 120 calories, 1 gram saturated fat (of 3 grams total), 220 milligrams sodium and 5 grams protein.
– Alyssa Tucker, Bite of the Best Intern: Roasted Red Pepper was my favorite flavor, I found the spicy flavor with a crunchy, light-weight cracker a great combination.