Walmart and some grocery stores
$3-$5 per 9 oz. bottle
Hellmann's, also known as Best Foods west of the Rockies, introduced Southwestern Ranch Flavored Reduced Fat Mayonnaise, a limited-edition flavor available until May 2013. The mayonnaise has a spicy and cooling, creamy ranch flavor, good  as a dipping sauce for Buffalo wings and French fries.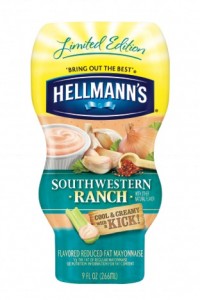 Each tablespoon contains 40 calories, 0.5 grams saturated fat (of 3.5 grams total), and 135 milligrams sodium.
Christin Chan, Bite of the Best Intern: This mayonnaise is filled with Southwestern flavors combined with a hint of spiciness that creates a lingering sensation in your mouth. I loved using this with chicken wings, celery, and carrots. I highly recommend!