nationwide grocery stores
$3.49-$5.99 per 4-pack clambshell pack; $2.99-$3.99 per 4-pack poly sleeve
grape flavor
Grapple brand apples introduces a new kind of apple that uses Washington State Gala or Fuji apples that crunches like an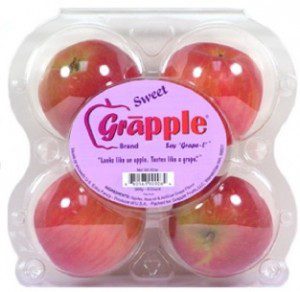 apple, but tastes like a grape. The apple has no additional sugars or calories. The ingredients are both FDA and USDA approved. To give the apples the flavor of grapes, the fruit is "gently bathed with an ingredient mix that is primarily grape flavor and pure water. Through this method, the naturally porous  apples take on a unique taste and aroma kids love."
Each medium-sized apple contains 95 calories and 14 percent of the Daily Value of vitamin C.
– bonnie: The crunchy apples do have a pleasant hint of grape flavoring that kids will like.  But I wonder why this product is needed, as kids like the flavor of apples. Grownups, too. 
One caveat: I found that the grape flavoring emitted an off-odor in my refrigerator. So if you do buy them, consume quickly.