The yogurt and fruit combo GoGo squeeZ YogurtZ come in a re-sealable pouch in banana, strawberry and berry flavors not needing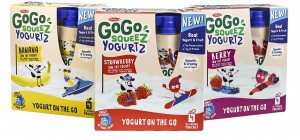 refrigeration. They are kosher certified without preservatives, artificial growth hormones (rBST) or the use of antibiotics.
Each 3-ounce serving contains 90 calories, 1.2 grams saturated fat (of 1.5 grams total), 55 milligrams sodium and 4 grams protein, and are a good source of calcium and vitamin D with 15% of what's recommended daily.