Rock Garden introduces Go Micro! MicroGreens. Created from immature greens that are harvested from a week to two weeks after germination, MicroGreens are rich in vitamins C, E and K.
The blends include Kale Combo (Green or Red Kale, Kohlrabi and Broccoli); Veggies Galore,(Amaranth, Broccoli, Radish and Collards); Spicy Selection (Radish, Daikon and Peppercress) and Italian Blend (a mix of Basil, Arugula and Parsley).  Microgreens are fresh,  ready-to-eat right from the package.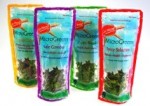 – bonnie. These tasty greens are an alternative or addition to other greens on a  sandwich, adding texture, flavor and nutrients. They're also good on pizza, in a pita, added to salad, on burgers, fish, or even steaks.