Farmhouse Culture introduced raw Krauts and Kimchi in 5 different variations. They are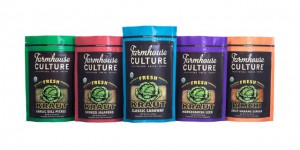 organic, non-GMO and vegan.
Each 1/4 cup serving contains 15 calories, 310 to 340 milligrams sodium and provides almost half of the daily recommended amount of Vitamin K.
Raw kraut and kimchi are rich in probiotics, which will help boost your immune system as well as increase the "good bacteria" in your gastrointestinal tract.
– bonnie:  I liked the spicy flavor of these good-for-you fermented organic cabbage krauts and kimchi. My favorite are the spicy wakame ginger kimchi and smoked jalapeno kraut! I suggest giving them a try.