Nationally available and online
$11.99 per 14-ounce box
Swiss cheese, wine and spices are blended together tocreate Emmi's Original Cheese Fondue.  The fondue is made with authentic Gruyère and Emmentaler cheeses from Switzerland and is ready to heat directly out of the package. Just place the cheese in a fondue pot and heat until th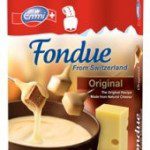 e cheese begins to bubble.
Each 1/4-cup serving contains 150 calories, 6 grams saturated fat (of 10 grams total), 370 milligrams sodium and 9 grams protein.
– Alyssa Tucker, Bite of the Best Intern: I liked how simple it was to just open the package, heat, and then serve. The cheese has a  creamy, thick texture and a rich Swiss-cheese taste. I recommend this as a delicious, easy to make a fondue dip  for any occasion.