Earthbound Farm's introduced organic Classic Salad Kits that provide two and a half to three servings per kit. The kale Caesar includes baby kale, red and green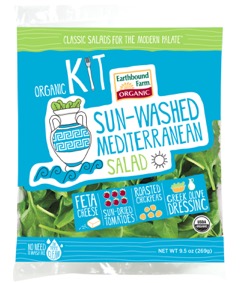 cabbage shredded carrots, roasted sunflower seeds, aged Parmesan cheese, crunchy multi-grain croutons and a spicy lite Ceaser dressing. The sun-washed Mediterranean includes spinach, arugula and radicchio, sun dried tomatoes, crunchy roasted chickpeas, feta cheese and a Greek dressing with sun-dried tomatoes and olives. The garden party is composed of a spring mix and Asian greens, dried blueberries and cranberries, feta cheese and a raspberry-balsamic vinaigrette.
Each 2-cup serving contains 130 to 170 calories, 1.5 to 3 grams saturated fat (of 6 to 12 grams total), 290 to 500 milligrams sodium, 5 to 6 grams protein and an excellent source of vitamin A and vitamin C.
– bonnie:  I'd recommend each of these salads for a quick light nutritious meal.