Caesar Salad and Apple Dijon are the new organic salad kits from Dole. The Caesar kit includes romaine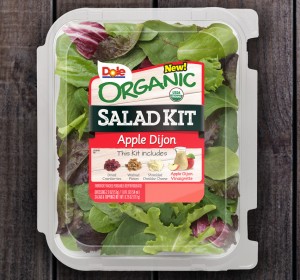 lettuce, pita chips, parmesan cheese and Caesar dressing; the Apple Dijon kit, spring mix, dried cranberries, walnuts, cheddar cheese and apple Dijon vinaigrette.
Each 3-cup serving contains 200 to 230 calories, 3.5 to 4.5 grams saturated fat (of 15 to 19 grams total), 300 to 490 milligrams sodium and 4 to 6 grams protein. The salads are good to excellent sources of vitamin A, vitamin C, calcium, vitamin K, folate and manganese.
Save
Save