Curate Kids Bars come in three flavors: Chocolate & Banana, Apple & Cinnamon and Oatmeal & Chocolate Chunk,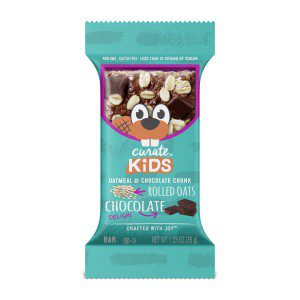 are non-GMO, gluten-free and are made without artificial preservatives, flavors or colors. They contain whole grains, fiber and plant-based protein from organic quinoa, gluten-free oats and nuts.
Each bar contains 150 to 160 calories, 1 to 2 grams saturated fat (of 6 to 7 grams total) and 4 grams protein.
Kristine James, intern at Bite of the Best: My kids really like these. They make a great afternoon snack after school containing a few grams less sugar than other kids' bars with more twice as much protein — 4 grams versus 2 grams — keeping kids fuller longer.