Crunchies Natural Food Company introduced these freeze-dried fruit snacks in nine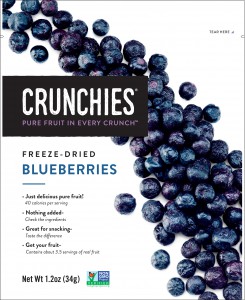 different flavors. They contain no added sugar, no artificial flavors or coloring and are non-GMO, vegan and kosher certified.
Each 1/4 cup to 1/2 cup serving contains 40 calories, 3 to 8 grams sugar and 1 to 3 grams of fiber. The blueberry and raspberry are a good source of fiber, each with 3 grams per serving.
Kristine James, intern at Bite of the Best: I like the crunchy texture of the sweet and healthy freeze-dried fruits, with no added sugar. My favorite is strawberry. Great on cereal or oatmeal or as a snack.