$1.99 per 1.5-ounce packet
Hearty Beef Stew, Savory Pot Roast, BBQ Pulled Pork
Crock-Pot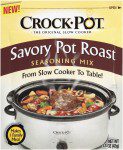 has introduced new seasoning mixes available in three varieties Hearty Beef Stew, Savory Pot Roast and BBQ Pulled Pork.
Each 1.5-ounce single-serving packet seasons two to three pounds of meat and fresh ingredients in a slow cooker. A 2-teaspoon serving of the Savory Pot Roast and Hearty Beef Stew mixes contain 10-15 calories, zero fat and 460-550 milligrams sodium. A 1-teaspoon serving of the BBQ Pulled Pork mix contains 10 calories, zero fat, 430 milligrams sodium and 2 grams sugar.
– Alyssa Tucker, Bite of the Best Intern: The Savory Pot Roast seasoning was full of rich flavor and — unlike some packaged seasonings — did not have a chalky aftertaste. I made a pot roast with vegetables,  a great combination because the seasoning didn't overpower the natural flavor of the other ingredients.