Chuao Chocolatier handcrafted milk chocolate bars introduced two new cereal bars — Cinnamon Cereal Smooch made with all natural cinnamon toast cereal and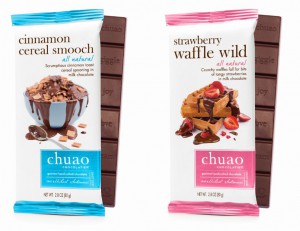 Strawberry Waffle Wild, made with real strawberries and waffle pieces — made with ethically sourced cacao. The bars contain no hydrogenated fats.
Each half bar (1.4-ounce serving) contains 210 calories, 7 grams saturated fat of (10 to 13 grams total) and 19 to 20 grams sugar.