Online, including at the Bite of the Best <a href="http://www.biteofthebest.com/shop.php?i=B009LABQ1M" target="_blank">shop</a>
$12.00
red, white, black
Chef's Planet Clip & Drain is a stainless steel reinforced clip with a silicone gripper that attaches to the pot making it easy to drain.It is made from ABS plastic, is dishwasher safe and fits most size pots and pans.
The Clip and Drain can be used for straining the liquid from veggies, pastas, meat and more.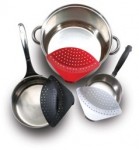 – bonnie: I like how this eliminates the need to pull out the colander!