The American bistro Sixth Engine occupies the space of the Engine Co. No. 6, which I was told is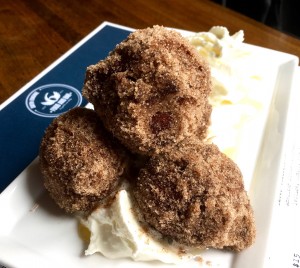 the oldest firehouse in the District. The owners kept much of the feel of the original firehouse with brick walls, high ceiling and a bank of windows.
Before heading to sample their brunch (served weekends from 11 am til 3 pm), I learned from the publicist that Sixth Engine was nominated in the Best Causal Brunch category for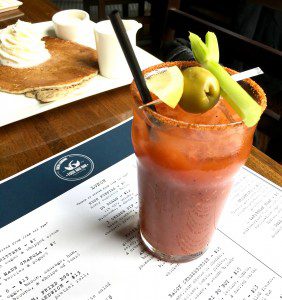 the RAMMY Awards Gala. That's a DC group celebrating restaurant excellence in Metropolitan Washington.
We began with their bottomless ($15 for up to 2 hours) Bloody Mary's made with Sixth Engine's own spicy house mix. With that, we had their dense cinnamon-sugar apple fritters with freshly whipped cream ($7 for 4). Not to be missed!!
I recommend the egg sandwich made on a pretzel bun. It's so good, I wonder why other restaurants don't serve more sandwiches on pretzel bread. In addition to the fried egg, this one had melted cheese and a thick slab of tasso ham ($13) served along with hash browns. I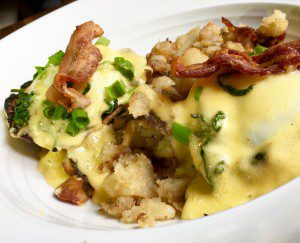 also recommend their light (yes, light) eggs Benedict with sauteed greens and a rich but delicate Hollandaise also served with potatoes. Their "62-degree" egg for the dish was first sous vide (cooked in a water bath at 62 degrees C until set), then poached resulting in a perfect textured yolk and whites. A must try.
Having been told to also try the Buckwheat flapjack, we did (side order of $4.50 for one). Good, but I'd prefer mine without all the sweet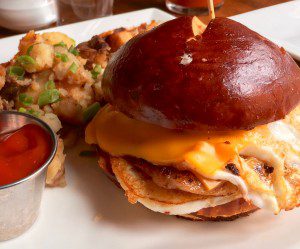 chocolate chip — especially after we started with the sweet amazing fritters!
– bonnie
Follow @biteofthebest
BonnieBOTB
Follow @BonnieBOTB
Sixth Engine
Mount Vernon Triangle
438 Massachusetts Avenue NW
Washington, DC 20001