Online and at the BiteoftheBest.com <a href="http://www.biteofthebest.com/shop.php?i=B003M5SG4M" target="_blank"> shop</a>
$8.99 per knife; $15.99 per set
Set with 3 Stainless Steel Cheese Knives in Lime Green (fork), Bright Pink (knife), Bright Blue (spatula) and Frosted Glass or in Lime Green, Bright Pink, Bright Blue
Boska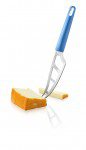 introduced a new line of Havana Cheese Knives created for soft and semi hard cheese, some knives with cutouts in the blade to prevent cheese from sticking. This collection is available in three colors, blue, fuchsia and lime green.
A Cheese Set that includes a frosted glass cheese board with a colored fork, spatula and knife for slicing and serving is also available.
– bonnie: Great hostess gifts.