Biscotti Bites are round, bite size and twice baked biscotti available in almond, lemon and cocoa flavor. The bites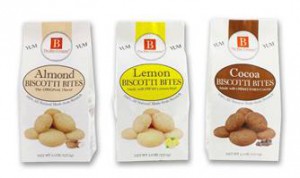 contain only natural non-GMO ingredients without added preservatives or additives.
Each 10-piece serving contains 120 calories, 2.5 to 3 grams saturated fat (of 4.5 to 5 grams total), 9 grams sugar and 2 grams protein.
Kristine James, intern at Bite of the Best: I love the fact that each variety only contains 7 to 8 ingredients and adds a little something sweet with your coffee without much added sugar.