Bonnie: This summer I attended Barilla's "Whole Grain Pasta 101″ cooking class and was pleasantly surprised how tender and delicious this pasta, rich in whole grains, tasted.
Many of the dried whole wheat pastas I have sampled are so chewy and gummy that they become a diet opportunity…as in just leave food on plate! That's not the case with this new whole grain pasta, as you get a good dose of whole grains and fiber without sacrificing taste.
As a refresher: A whole grain is simply the seed of a plant that's a grain — just the way it grew in the field — with its three main parts intact: the endosperm, germ and bran. Each part contains its own nutrients, but the whole grain, even when ground up, is greater than the sum of its parts, providing vitamins, minerals and many phytonutrients — substances plants produce to protect themselves against disease, ones that also help us.
To identify products with significant amounts of whole grains, look for the Whole Grain Stamp on the label.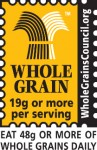 That stamp on Barilla Whole Grain pasta — made from 51 percent whole wheat — indicates that one serving contains 28 grams of whole grains, or more than one-and-one-half the three daily government-recommended servings.
If you use dried pasta, I suggest you give this whole grain version a try before December 31, 2009. That's because Barilla is offering a "That's Whole Grain?" taste challenge. Everyone who tries and is not completely satisfied with Barilla Whole Grain will receive a free box of their favorite regular Barilla pasta.
Bryan: One of the easiest and most influential changes you can make to your daily diet is whole grain substitution. It's really simple: Whenever you think "carbs," just think "whole grain carbs."
Whole grains increase your body's intake of healthy nutrients and fiber. Substitutes abound! Many of my favorites include: brown rice for white rice (stir-fries, pilafs, side dishes), whole grain cereals for sugary ones (Cheerios for Capt'n Crunch), whole grain bread instead of white bread. You can even substitute popcorn for potato chips and get additional fiber.
One of the most commonly consumed foods in the US is pasta. Though all pastas are high in carbohydrates, I encourage you to do a "carbstitute" and opt for a whole wheat pasta rather than a standard white pasta. There are a number of small food producers that make whole wheat pasta, but I was very glad to see Barilla (one of the most recognized names in pasta) making one — and a tasty one at that. Barilla is made with 51 percent whole wheat and delivers 3 times the fiber of regular pasta. It is ideal for adding more fiber and whole grains to any diet without sacrificing taste or making a trip to a specialty food market.
The Barilla Whole Grain line currently features six shapes: linguine, medium shells, penne, rotini, spaghetti and thin spaghetti. My favorite is the rotini. There is something extra hearty about whole grain pasta, and I find the dense texture of this spiral shape adds an extra chewy bite.
Eric: I'm glad to see the whole grain trend get such mainstream attention from one of the largest pasta producers in the world. As my brother pointed out, one of the easiest moves you can make toward a healthier diet is the switch from simple refined carbohydrates to whole grain complex carbohydrates.
Why is whole wheat pasta a healthier choice? Your body metabolizes (breaks down) the food at a slower rate, with less of a chance for the sugar to be converted into fat.
Another reason to eat whole grain pasta – the taste. Unlike normal pasta, whole grain provides an "earthier" taste, and combines perfectly with a rich cheese or farm-fresh tomatoes and basil.