Nationally at retailers that sell organic and natural foods
$5.99 per 6-ounce package
Applegate introduced Organics Slow Cooked Ham. This Northern European-style ham has no nitrites and is certified organic.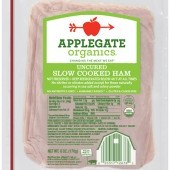 A 2-ounce serving 60 calories, 0.5 grams saturated fat (from 1.5 grams total), 35 milligrams cholesterol and 480 milligrams sodium.